Ryan Drops Out, Romney Ramps Up
Ryan's decision not to run in 2016 has everything and nothing to do with Romney's big move.
by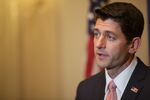 Earlier today, I said we would know whether Mitt Romney and Jeb Bush are monopolizing Republican resources if other possible candidates started dropping out. A few hours later, Paul Ryan did just that. But I'm not going to interpret the Wisconsin Republican's move as evidence that party leaders have already decided on Bush or Romney.