Land of Lincoln Scrounges for Pennies
Illinois's new governor must face the lowest credit rating and biggest pension shortfall of any state.
by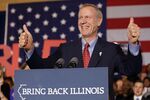 Illinois's new Republican governor is walking into a big mess. The state's pension system is a disaster, and while legislators have tried to alter the system to make it more affordable, their plan is currently wending its way through the courts and may well be overturned. There's also a backlog of other bills, and the state is paying a premium on its debt because of its fiscal issues. The Land of Lincoln, says Reuters, is "buckling under a chronic structural budget deficit and the lowest credit ratings and worst-funded pension system among the 50 states."