Golden Globes Is Still a Guy Thing
Tinseltown's infantile male culture has a night out.
by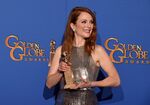 Last night's Golden Globes show was held up as the night of Golden Girls. Julianne Moore, 54, won her first award for best actress in a motion picture for the drama, "Still Alice," beating out much younger competition.