How 'Nut-Gate' Can Improve South Korea's Economy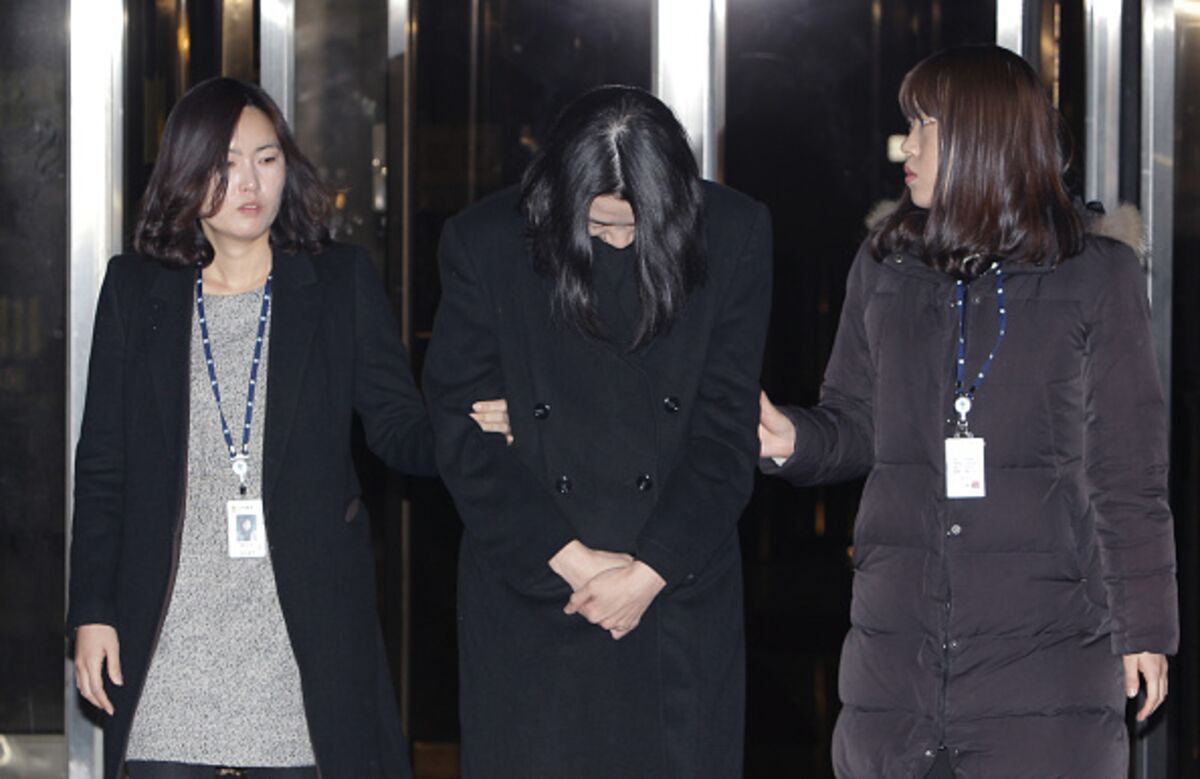 This whole episode has been...insane.
Photographer: Chung Sung-Jun/Getty Images
One little bag of nuts could land Heather Cho in jail for 15 years. One hopes it can have as big an effect on South Korea's economy.
Cho, the disgraced former Korean Air executive and daughter of its chairman, was indicted Wednesday on five charges stemming from her Dec. 5 onboard meltdown, when a crew member served her macadamia nuts in a bag instead of on a plate. In Korea, "nut-gate" has resonated because it seems to reveal the worst of what may lie ahead as the chaebol families' third generation -- the grandchildren of the conglomerates' founders -- takes charge. While not every 40-year-old heiress is as bratty as Cho seems to be, the next wave of chaebol leaders has been coddled since birth and promoted with blinding speed: On average, the grandchildren and great-grandchildren at 30 major conglomerates have been elevated to executive positions within three-and-a-half years, compared with 22 years for rank-and-file employees.
The transitions loom at an inopportune moment, with the government having just trimmed its growth forecast. In recent days, officials have hinted at paroles and pardons for several chaebol leaders who have been convicted of embezzlement and fraud, supposedly because their skills are needed to help revive the economy. In fact, as President Park Geun-hye has rightly acknowledged, South Korea needs to reduce, not reinforce the chaebol's sway. The sprawling corporate groups hog credit and choke off competition and innovation. And though they dominate the economy -- the 10 biggest account for around three-quarters of the country's output -- they generate relatively few jobs.
Despite the new measures Park has introduced to untangle the web of cross-shareholdings by which families maintain chaebol control, their grip has barely loosened. Naming outside directors to boards hasn't brought greater oversight. Handpicked by the chaebol themselves and usually drawn from the ranks of academia or government, such figures rarely challenge company executives. In September, Hyundai shareholders were appalled to learn that the boards of three of the group's companies had approved a $10 billion deal to buy land for a new headquarters without first asking the price.
A jail sentence for Cho, however satisfying for many South Koreans, wouldn't fix any of these problems. The government would be wise to leverage the current public outrage to more broadly institutionalize transparency and better governance at the chaebol -- by making boards public and directors truly independent, empowering shareholders and forcing companies to simplify their ownership structures. Several reform measures remain bogged down in the legislature, held up by chaebol lobbying. They should be expedited.
The biggest challenge remains to separate ownership from management. As a carrot, the government could offer tax incentives to families that hand over day-to-day control of their companies to professional managers. As a stick, regulators could make clear that they intend to prosecute corporate malfeasance across the board, not only when scandals inflame public outrage. The revolving door of officials from the private sector into regulatory agencies and back again -- a problem exposed by the tragic sinking of the ferry Sewol -- must be stopped.
Ultimately, relinquishing control is going to require a change in mindset among the chaebol families: They will need to stop thinking of their companies as legacies, and focus on creating shareholder wealth rather than maintaining their own personal fortunes. After the Korean War, under Park's father, the late dictator Park Chung-hee, these corporate leaders led a miraculous national revival. To help the country again, their progeny must begin to step aside.
To contact the senior editor responsible for Bloomberg View's editorials: David Shipley at davidshipley@bloomberg.net.