NFL Finds NFL Innocent in Ray Rice Debacle
Neither Goodell, in his investigation of Rice, nor Mueller, in his investigation of Goodell, seemed particularly concerned with finding the whole truth.
by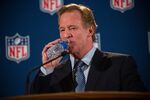 To quote New York Post columnist Bart Hubbuch, "The only surprise about the Mueller report was that the NFL didn't announce it at 4:59 p.m. ET on a Friday."