Editorial Board
Great Job Growth! Now Where's That Raise?
The Fed doesn't need to start thinking about raising interest rates just yet.
by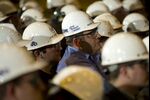 Today's employment report marks the end of what has proved to be an outstanding year for U.S. job growth. Unfortunately, the same can't be said for wage growth -- and until it can, the Federal Reserve has ample reason to keep its economic stimulus efforts going.