Intel Challenges Silicon Valley to Diversify
Will other big companies take on Intel's diversity challenge?
by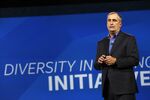 Intel's chief executive Brian Krzanich broke up the monotonous gadget and connected-home drone of this year's Consumer Electronics Show with news that the chip maker will spend $300 million over the next five years to become a more diverse company.
Specifically, Intel wants its workforce to reflect the racial and gender diversity of the available candidate pool by the year 2020. The (slightly oversimplified) explanation for all of this is that if 60 percent of those who hold engineering degrees are women, Intel wants its engineering team to reflect that statistic.
Intel, of course, could stand to be more diverse. A company report shows that 76 percent of its employees were men, 57 percent were white, 29 percent were Asian, 8 percent were Hispanic and 4 percent were black at the end of 2013.
Before I get into the specific initiatives that Intel plans to fund, it's important to note that these types of programs aren't unique or new. Google and Facebook have implemented recruiting, retention and education initiatives to create a more diverse workforce - yet they've both conceded that they don't hire many women or minorities.
Other big tech names like Apple, LinkedIn, Microsoft and Twitter have blogged about their work on diversity too. But blogging is...just blogging (sorry fellow bloggers). Actually doing something, and committing money to it, is a very different matter.
The biggest companies in tech, and some thoughtful investors, know that it's a problem if major corporations are dominated by white men. This is 2015, after all. Some of the most exciting, fastest growing markets for Corporate America – and for tech in particular - are in Asia and Latin America.
It's not a crazy stretch to say that white guys who went to Stanford and immerse themselves in a culture that wants to take care of the first-world laundry conundrum could benefit from alternative points of view. Or, as Krzanich said in a statement accompanying Intel's $300 million pledge: "Without a workforce that more closely mirrors the population, we are missing opportunities, including not understanding and designing for our own customers."
Krzanich's also sets up Intel to be held publicly accountable if it can't get it together and wean itself from largely hiring only stereotypical tech employees. Its announcement was big and loud and high profile. Real money will be spent on the effort.  (Yeah, I know that a $60 million-a-year line item at a company that makes $55 billion a year isn't a burden, but it's not peanuts, either.)
Intel says that compensation will be tied, in part, to whether or not divisions make strides in recruiting and retaining a more diverse workforce. By creating somewhat concrete goals, Intel has also opened itself up to detractors who can spend the next five years talking about whether or not the company is living up to its promise. Intel has gone ahead and a target on its back in the name of diversifying its ranks. Bravo.
Intel's chief diversity officer Rosalind Hudnell says that the company collects and crunches data on every aspect of its diversity programs.
"You can't get parity in the workforce just do by hiring people," Hudnell says. "You have to retain them and progress and that means finding the best ways to manage and help employees who may feel isolated in an industry that's not as diverse as it wants to be."
Some of the work that Krzanich alluded to at CES will focus on fully implementing human resources programs that the data shows have worked the best at Intel over the last few years, including the company's Blueprint for Extraordinary Leadership and TouchPoint programs. Intel designed both to recruit and retain black and Hispanic employees.
Intel is partnering with groups that encourage women and minorities to work in computer science and it's been funding education programs to mint more engineers (who ideally would have career loyalty to Intel). Ultimately, it wants to increase the number of women and minorities who enroll in graduate computer science and engineering programs, as well as those who simply finish college.
"A few years ago we tilted more toward masters and PhD level programs, and we'll still fund those, but we recognize a need to deepen support for scholars at the undergrad level," says Hudnell. "We want to bring down the dropout rate for students who switched away from computer science or dropped out in their first or second years of undergrad. We haven't increased enrollment in these subjects in decades."
Intel's efforts include universities and community colleges to reach the broadest array of (often overlooked) potential talent possible.
That sort of thinking might make a Googler cringe. Google is famous for hiring only from the nation's most elite universities. I like that Intel is thinking more broadly. A job in tech has long been a fast track to well-paying work and sometimes to wealth. Why not try to put people from all socio-economic backgrounds on that road?
Granting access to highly-qualified candidates with diverse backgrounds but without elite pedigrees also puts candidates with true potential in the hands of managers who can offer an added and often elusive boost: mentoring.
I'm not certain that Intel will succeed in its mission to become a more diverse workplace, but I know that it will be noticeable if it fails. Intel's move is also a challenge to Apple, Facebook and many other companies in the business world beyond Silicon Valley. If they don't take up the gauntlet, that will be noticeable too.