Death of Malls Has Been Greatly Exaggerated
America's dying shopping malls are often treated as a shorthand for the country's economic troubles. Asia's retail landscape suggests a more complicated story.
by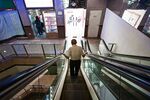 I live in Kuala Lumpur, in a high-rise attached to a shopping mall. That shopping mall is a 19 minute drive from two much larger shopping malls, and a 20 minute drive from three more. And not to brag, but three of those nearby malls recently ranked among the 10 largest in the world, including 1 Utama, the world's fourth largest, with 364,515 square meters (3.9 million square feet) of leasable space.
Once upon a time, the U.S. was the one building world-beating malls. These days it's more busy tearing them down. Last Monday, crews began demolishing Cleveland's Randall Park Mall, which opened in 1976 claiming to be the world's largest shopping center. It's just the latest entry in a growing list of expired indoor shopping emporiums that "once served the working class," according to a CNN Money report on Randall Park.
Unsurprisingly, America's dying shopping malls are often treated as a shorthand for the country's economic troubles -- income inequality, above all. Everyone from the BBC to BuzzFeed has given mall closures coverage, entire websites are devoted to the subject and, on Sunday, the New York Times joined the parade with its own dead malls slideshow and predictable conclusions about stagnant middle class wages. 
But it's worth considering whether the decline of the country's malls is really the product of faulty economic policies -- or even any economic dysfunction at all. A closer look at Asia's retail landscape suggests a more complicated story. 
As my neighborhood attests, malls are booming across Asia. The continent is now home to all 10 of the world's largest shopping centers. And it's not the size, but the volume that really matters. In April, real estate giant CBRE reported that, of the 39 million square meters of shopping center space under construction in 2013, more than half was in China. Of the top 10 cities, only one -- Istanbul, at No. 8 -- was non-Chinese. Of the top 15, all were in Asia. (Kuala Lumpur wasn't in the top 25  -- and neither was any North American city.) Of course, this survey took place before the broader effects of China's economic slowdown began to bite, but the trend is clear. 
Why the boom? There are two broad reasons, neither of which the U.S. could be expected to match. The first is simple demographics. Southeast Asia and China are rapidly urbanizing, driving low-income rural residents into middle-class lifestyles. In Indonesia, for example, the urbanization rate stood at 38 percent in 2000, and is expected to rise to 60 percent by 2020. Those new city dwellers have cash to spend: According to a Bloomberg News report in June, middle-class and affluent Indonesians are expected to double their numbers by 2020, to 141 million, from 74 million in 2012. A pool of potential consumers that size is sure to attract retailers -- and sure enough, in June, Lotte, South Korea's largest mall operator, announced that it would open four Indonesian malls by 2018. Of course, it's not just Indonesia that's experiencing business-shifting demographic change. CBRE predicts that the Asia Pacific's middle class will hit 1.74 billion people by 2020 (tripling its 2009 total).  
The other important factor is that most of these people will actively aspire to go to the mall. According to CBRE's November 2014 Consumer Survey of more than 11,000 respondents in the Asia Pacific region, "Asia Pacific consumers overwhelmingly prefer large shopping centers" with more than 50 shops. (Preferably these shops should be "unique" -- and in developing Asia, classic mall brands like the Gap certainly qualify.) There are, of course, variations: Younger demographics seem to prefer traditional shopping streets and smaller shopping centers. But, in a region where shopping can feel like a sweaty contact sport conducted under polluted skies, the allure of the shopping mall --  its cleanliness, security and air-conditioning -- is hard to resist.
Few if any of these demographic or cultural factors exist in, much less can be replicated in the United States. After all, the 20th century suburbanization that drove much of American mall development (and downtown decline) has ended, and is now even reversing. Meanwhile, shopping tastes have changed, destination malls surrounded by large parking lots no longer have cultural allure (the mall paean "Valley Girl" was released in 1983; "Mall Rats," in 1995), and America's top retailers have so saturated the market that -- according to the Sunday New York Times story that tried hard to connect dying malls to a dying middle class -- American malls are now dying primarily because "of a glut of stores in many parts of the country." There are, in short, too many Gaps in too many locations, and nobody thinks they're cool, anymore.
Asia doesn't have that problem, and thus its malls -- and mall culture -- are booming. Of course, Asian mall developers aren't immune from building badly planned malls that end up empty. But so long as its economies and consumers continue to undergo their own version of a transformation that Americans completed last century, they'll keep investing. Meanwhile, far from feeling discouraged by this, Americans should gaze upon their handful of hollowed out retail shrines, with the confidence that they don't represent the end of affluence, but just the passing of a different kind of way of enjoying it.
This column does not necessarily reflect the opinion of Bloomberg View's editorial board or Bloomberg LP, its owners and investors.
To contact the author on this story:
Adam Minter at aminter@bloomberg.net
To contact the editor on this story:
Cameron Abadi at cabadi2@bloomberg.net
Before it's here, it's on the Bloomberg Terminal.
LEARN MORE