Comedy Central: California's Senate Race
Barbara Boxer's exit means the state's 'top two' primary in 2016 will winnow down the candidates to succeed her. The voters will lose.
by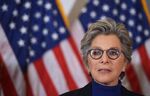 With Barbara Boxer's decision not to run for re-election in 2016, California is going to have its first open contest for the U.S. Senate since 1992. Unfortunately, the contest will be stupider than it should be, thanks to California's "top two" rules.
Here's how it works: Everyone runs in one open "primary" in June, and the top two candidates, regardless of party affiliation, advance to the "general" election in November. The low-turnout vote in June will be the equivalent of the general election, with the runoff vote in November. 
The system is intended (supporters say) to defeat the supposed extremism of the parties, and make it possible for candidates who appeal to more voters to advance to November. In reality, the rules force parties to game the system by adding an extra tier of pre-"primary" endorsements, either formally or informally. It also hurts, for what it's worth, third-party and independent candidates.
Primary elections are tricky for parties. They can steer resources to favored candidates, but especially when multiple candidates are on the ballot, it's hard to control the outcome. This leaves individual candidates and their organizations with some influence, even in strong-party eras, and it potentially allows the media to affect the outcome.   By making it harder for parties to influence what goes on, the top-two system makes it more likely that election results are either entirely random or reflect narrow interests or media preferences. 
Paradoxically, top two pushes the real party decisions further from the voters, because the need for more complicated coordination gives an advantage to experienced insiders. The system is good for the media, because entertainingly crazy things can happen and because its influence is magnified. But it's bad for everyone else.
It creates a special challenge for the majority party -- in California, that's the Democrats. The problem? If Democratic votes split among many candidates (and there's a logjam of politicians eager to move up to the Senate), while Republicans can manage to split their share of the vote equally between two candidates, then it's possible Democrats could be shut out of the November election entirely.
This is further complicated for Democrats because the June electorate is typically more Republican than November voters.
So Democratic party actors -- the politicians, campaign and governing professionals, donors and activists, and others who have the largest stake in nomination outcomes  -- have an incentive to choose a candidate early. That means the contenders will want to establish a strong presence early, with the goal of keeping marginal candidates from getting on the ballot at all by making it clear that party resources won't be available to them. At the same time, liberals will look on California as a low-risk opportunity -- even with all the warnings about Republican machinations -- and push one or more candidates with very liberal positions, confident that the state's voters will prefer the Democrat, no matter what. 
Republicans have an even trickier strategic choice. Should they try to win the seat by splitting their vote between two candidates and hoping Democrats are more sharply divided among multiple hopefuls? Or should they commit to a single candidate, ensuring they'll at least have someone on the November ballot, and hope they can win an upset by capitalizing on the earlier infighting on the Democratic side?
A Democrat is likely to win, so it's unlikely that this open seat will be one of those we'll be watching closely on Election Day in 2016. But from now through next June, the race should be fascinating to watch.  
This column does not necessarily reflect the opinion of Bloomberg View's editorial board or Bloomberg LP, its owners and investors.