Why Fighting Oligarchs Is a Bad Idea
Syriza, the Greek leftist party, says it will crack down on local oligarchs -- a slogan that always ends in more government control and more oligarchy.
by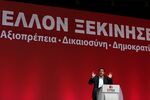 The top economic spokesman for the leftist Greek party Syriza, which leads the polls ahead of the Jan. 25 election, says one of the party's goals is to crack down on the nation's oligarchs. Reducing the outsized role of politically connected magnates, George Stathakis argues, will allow smaller, more honest businesses to be more competitive.