Most Important Car Show Is Now CES
Automakers are flocking to a new car show: CES.
by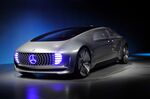 For the last 100 years or so, the biggest car show in the U.S. has been the North American International Auto Show, which takes place in Detroit next week. This year, however, there's some competition for that honor as a new show rises to help the industry showcase its technological transformation.
It's taking place this week, not next, and in Las Vegas, not Detroit. Plus, it's not an auto show at all but the Consumer Electronics Show. Confused? So is the entire auto industry.
Throughout the history of the car, auto shows have been the perfect opportunity to highlight new vehicles, new technologies and a company's vision for the future. And with automakers and automotive news media assembled in one place, car shows are still the best way to communicate within the industry. But something has changed in the last five years or so, as automotive technology has become ever more commodified: Rather than trying to impress the auto industry with new automotive concepts, automakers are trying to make themselves relevant to the broader technology business.
As a result, automakers are flocking to CES, showing new concepts and technologies and touting themselves as "mobility companies" making "the ultimate gadgets." They're highlighting self-driving systems, in-dash infotainment consoles, car-sharing concepts and "connected car" capabilities.
To some extent, this shift was inevitable: Automakers have long relied on futurism as a critical marketing tool, and the information-technology revolution has forced automakers to find it in new forms. But the rebranding of cars as "super-gadgets" is still an uneasy one. Cars remain fundamentally about channeling human attention into physical mobility, whereas the myriad in-dash and mobile-connectivity add-ons highlighted at CES are about navigating the digital space. The challenge of integrating these two tasks is that humans still cannot safely operate a car and communicate electronically at the same time.
Some automakers are already trying to square this circle, presenting forthcoming autonomous-drive concepts that would allow humans to focus on the digital space while their car independently navigates the physical one.
Audi's self-driving A7 demonstrated some of these capabilities by driving itself to CES, while Mercedes presented its vision of an autonomous car that more closely resembles a "mobile living space" than any car on the market. Once this technology becomes available, it will destroy the very notion of the car as we know it.
Until then, attempts to fuse digital gadgets and cars are likely to be met with frustration. It will probably be a good five years before automakers release cars with self-driving technology, and even then, it is unlikely to be available outside of premium brands or limited deployments.   
In the meantime, automakers have few meaningful opportunities to reconcile their 100-year-old automotive paradigm with the new world of digital connectivity. The most successful attempts will involve building the infrastructure between mobile gadgets and cars, allowing consumers to monitor and control cars from their phones, smart watches and other devices.
But this integration will only be successful if automakers recognize that devices, not cars, are the "platform." Cars can be better integrated into the new digital ecosystem, but they will never replace the gadgets that make it up. Why replace your smartphone to match your new car when the car can simply do a better job of integrating with your existing smartphone?
Until self-driving technology takes hold, cars will continue to have an uneasy relationship with the gadgets that have replaced them as major objects of consumer lust. For now, however, at least automakers recognize that the only way to keep their brands relevant is to genuflect at the altar of consumer electronics. It's a big step up from the relative insularity of the auto-show circuit, and an important part of preparing for the transition from the first era of the automobile to the second. It may not make cars "the next trend in gadgets," but it shows that cars can't simply continue to just be cars anymore, either.
To contact the author on this story:
Edward Niedermeyer at edward.niedermeyer@gmail.com
Before it's here, it's on the Bloomberg Terminal.
LEARN MORE