We're All Charlie Hebdo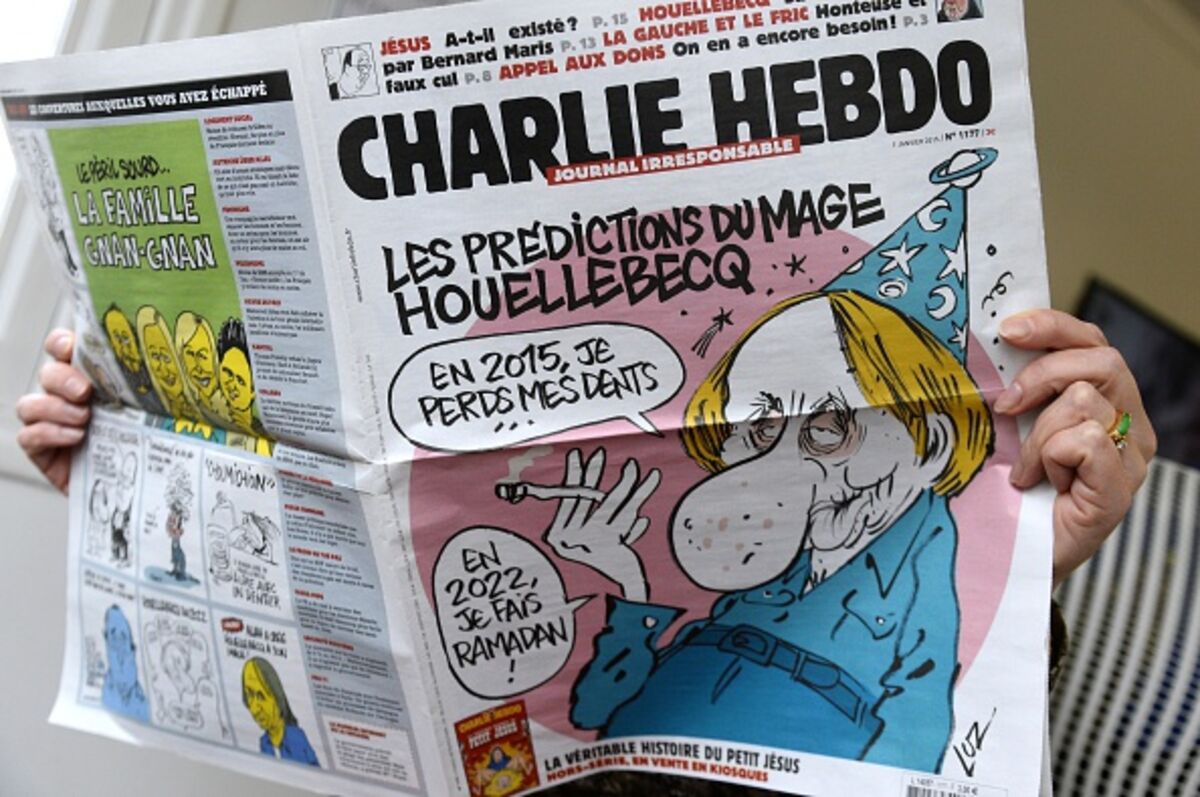 Photographer: Bertrand Guay/AFP/Getty Images
Free speech and the state that protects it were attacked today in Paris. For several journalists and the police officer who had been assigned to guard them, the attack was fatal.
That is the central fact and the fundamental outrage of today's shooting at the offices of the satirical magazine Charlie Hebdo, and any attempts to distract from it do a disservice not only to the dead but also to the ideals of democratic society. This act of terrorism cannot and should not be used to stoke hatred and prejudice against Muslims, or intolerance and fear about immigrants and immigration.
Of the three suspects French authorities were reported to have identified late today, two were French (the third's nationality was not immediately clear). So even if France, whose population is about 7.5 percent Muslim (4 to 5 million people), were to block all immigration overnight, such an attack would be no more or less likely than it is now. Consider that the Sept. 11 attacks, the biggest terrorist assault on a non-Muslim country in history, were carried out not by immigrants, but by outsiders who entered the country as visitors.
True, the big concern of security services across Europe today isn't a group-sponsored spectacular such as Sept. 11, but "lone wolf" attacks by people who are motivated by groups such as Islamic State. Law enforcement is appropriately wary of European Islamic State fighters returning from Syria and Iraq.  Even so, there is no reason to believe a clampdown on immigration would prevent such attacks. If anything, the semi-racist discourse that tends to bubble up around such efforts might even encourage them.
So as France considers its response to the attacks, it cannot allow fear to dominate the debate. The challenge in responding to any act of terrorism is to not let it erode tolerance and free expression. A pluralistic civil society tolerates speech, even when it is unnecessarily provocative or even hateful; it doesn't allow violence.
Neither anti-immigration nativists nor Islamist terrorists are especially fond of the liberal culture that has dominated European politics and thought since the World War II. Now, however unwittingly, they may be joining forces against it.
It was at least symbolic that the cover of the latest issue of Charlie Hebdo was a newly published book, "Submission," by the French author Michel Houellebecq. The novel's plot imagines France in 2022 after the election of an Islamist government, which has excluded women from working and opened Islamic schools. The premise is ludicrous (even by 2030, Muslims are projected to make up only 10 percent of the population, and France is among the world's most determinedly secular countries). But the book, like Charlie Hebdo's cartoons, cannot be used to justify today's violence.
European law enforcement will certainly need to strengthen its counterterrorist strategies after this attack, including the screening of local supporters of Islamic State and returnees from Syria and Iraq. At the same time, though, Europe's leaders need to work harder to separate the issues of immigration and terrorism in the public mind, and to emphasize that free speech is a universal value.
French President Francois Hollande said the right things today about tolerance and "the liberty of expression." What will matter more is how he protects and defends these principles in the weeks and months to come.
(Updates previous version of this story to include news about suspects.)
To contact the senior editor responsible for Bloomberg View's editorials: David Shipley at davidshipley@bloomberg.net.