Obama's Higher Approval Is Good for Everyone
The economy improves, and the president is more popular. That means voters aren't Fox News robots.
by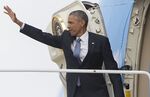 Here's some good news: Barack Obama's approval ratings are heading up again. It isn't clear by how much. The more tentative "moderate smoothing" option at HuffPollster has him picking up just a single percentage point over several months, but the quicker-to-react "less smoothing" option gives him a gain of about two and a half percentage points over the last eight weeks, a solid improvement.