Brazil Puts a Denier in Charge of Climate Change
Aldo Rebelo has quite a track record.
by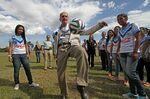 Brazilian President Dilma Rousseff has billboarded her country's fight against dangerous climate change, describing it during the 69th United Nations General Assembly last September as "one of the greatest challenges of our times."
Building a sustainable planet is part of the modern agenda, she declared, on equal footing with fighting inequality and discrimination.
So, how about a round-trip ticket to Paris, the venue for the next  UN Climate Change Conference, for anyone who can explain why Rousseff named Aldo Rebelo as her new science and technology minister? Despite being a dedicated climate-change denier, Rebelo will have a seat at the head table. What he'll say is a mystery.
A former congressional majority leader who went on to serve as Rousseff's sports minister, Rebelo is not a scientist. No matter. In 2010, while lobbying to replace the outdated forest code with a pro-development policy, he lectured green groups on the fine points of climatology. In an exchange with Marcio Santilli, a former lawmaker and noted environmentalist, he bristled at the c-word and any suggestion that human beings were somehow to blame for overheating the planet.
Brazil needed development, not catechism, Rebelo growled, and then offered some faith-based thinking of his own in an open letter to Santilli, titled "the Environmental Scam." Armored by his own "devotion to dialectical materialism," Rebelo argued that Santilli's "positivist scientism," was "no magic wand [powerful enough] to convert me to the doctrine of global warming, a theory which is incompatible with contemporary knowledge."
To wit: This position puts Brazil's highest-ranking Communist on the same ideological stump as the U.S. Tea Party rank and file, said Stephan Schwartzman, head of the Tropical Forest Program at the Environmental Defense Fund.
And there was more. "In fact, there is no scientific proof for projections of global warming, much less that humans are behind these natural phenomena," Rebelo continued. All this was mere greenwashing by "the international environmentalist movement," imperialists all, bent on "controlling consumption by poor countries."
And of course, there was the 2011 tweet that reads, "Hello, Sao Paulo, chilly, isn't it? Where's the global warming crowd? In stores, well, well, everybody buying the last heater ... Electrical at that.  Long live Belo Monte!"
Brazilians who have watched Sao Paulo's main reservoir turn to mud puddles during the worst drought in memory would be forgiven for wondering. So might the scientists at the National Space Research Institute, who recently linked forest-clearing in the Amazon --  recgonized for its vital role in capturing moisture and recycling rainfall across the hemisphere --  to the torrid weather.
Denying climate change is not Rebelo's only contribution to policy obscurantism. As a lawmaker in 1994, just as Brazil was beginning to modernize public service, he demanded that government forsake "labor-saving innovative technology," such as computers and automatic elevators. The proposal was quietly shelved in committee, on fear that it would create, among other monstrosities, "a frightening bureaucracy." He had more success in later stopping self-service fuel pumps at Brazilian filling stations, so sparing an underpaid army in overalls.
Then, in 2001, he sought to prohibit the use of English-language terms from public parlance, so banishing "imperialist" terms like "drive-in" and "software."
Undaunted, Rebelo is back, exotic as ever, this time with a fancy job upgrade. How he fits Rousseff's mission to make Brazil a modern and environmentally-sound nation is an open question. But she could start with cabinet change.
This column does not necessarily reflect the opinion of Bloomberg View's editorial board or Bloomberg LP, its owners and investors.