U.S. Needs More Democracy, Fewer Elections
To fulfill my civic duty, I have had to cast ballots 133 times in four years in my San Antonio district.
by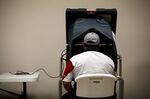 It was Election Day -- again -- in my little corner of San Antonio. I voted at a deserted polling place, late morning; I was only the fourth voter in my precinct today.