Bond Yields Are Down in Japan, and the U.K., and Germany, and France, and ...
Declining government borrowing costs are a worrying signal about the outlook for growth and inflation.
by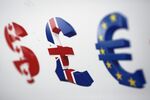 Given the choice between lower or higher interest rates, borrowers will rationally choose the cheaper option. Lower borrowing costs seem unequivocally desirable. In the world of government borrowing, however, the lower price of money is telling us something about the economic outlook and the risk of deflation. And it's not good.
Japan's 10-year yield dropped to a record 0.28 percent today, while the U.K. auctioned new gilts, paying an all-time low of 1.622 percent to borrow for a decade. Ten-year yields also declined to a record in Germany. And in Austria. And Belgium. And the Netherlands, Finland and France. Every day, Europe looks a little bit more like Japan.
The Trouble With Falling Prices
Only the U.S. seems to be failing to keep pace, although that's because of the weird "flash crash" that sent the 10-year Treasury yield momentarily down to 1.86 percent in October, making today's dip below 2 percent look less impressive than it actually is:

The cost of money everywhere is dropping ever closer to zero. It's partly a side effect of central banks keeping official interest rates at next to nothing. But it also suggests bondholders are willing to accept a negligible interest rate to invest for a decade because they have no fear that growth will be strong enough to erode their returns by stoking inflation.
It's also terrible news for savers. The emergency actions central banks took to stop a global economic depression have made being a borrower much more attractive than trying to grow a nest egg.
In May 2009, Marc Faber, the legendary investor, predicted that the Federal Reserve would be unable to keep consumer prices in check and that the U.S. would suffer Zimbabwe-style inflation. (At the time, Zimbabwe's statistics office put the nation's inflation rate at 231 million percent.) Faber, publisher of the "Gloom, Boom & Doom" report, advised buying gold:
I am 100 percent sure that the U.S. will go into hyperinflation. The problem with government debt growing so much is that when the time will come and the Fed should increase interest rates, they will be very reluctant to do so.
Faber may eventually be proved right; pumping billions of dollars into the economy and squashing interest rates down to zero may eventually unleash the inflation beast. So far, though, deflation is looking much more likely. 
This column does not necessarily reflect the opinion of Bloomberg View's editorial board or Bloomberg LP, its owners and investors.