Congress Deserves a Hug Today
For all the contempt and even hatred it receives, Congress is key to a robust U.S. democracy.
by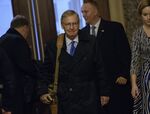 As a Congress lover, I'm a big fan of its Opening Day. I enjoy watching (thanks, C-SPAN!) the sharp contrast between the raucous swearing-in on the House side and the formal ceremonies in the Senate, where only four members at a time are sworn in. The House does it all at once, and it's fun to see which members are taking it seriously, which are blasé and which are so distracted chasing their children around that they barely notice the big moment.