Do Palestinians Have to Take Israel to Court?
Palestinians' repeated appeals to the ICC, even if unsuccessful, will create a constant drumbeat that Israel is in violation of international criminal law.
by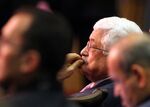 Palestine's bid to join the International Criminal Court is unlikely to lead to actual charges being brought against Israel, for reasons legal, political and institutional. So why is Palestinian President Mahmoud Abbas willing to pay a high price in lost revenue and U.S. anger to make the effort? And why is Israel so concerned about the Palestinian move? The answer is a matter of framing -- and it sheds light on the trajectory of the Israeli-Palestinian conflict more than 20 years after the Oslo accords.