Palestinians Still Don't Want a State
After Mahmoud Abbas's request to join the International Criminal Court, Israel and Palestinians are in a new diplomatic war.
by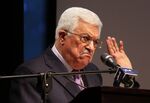 Last week's attempt by the Palestinian Authority to obtain recognition from the United Nations Security Council has mostly disappeared from the world's front pages. That is not true in Israel, though, where a new diplomatic war with the Palestinians is just taking shape.