Obama's Smart to Stay Out of Israel's Election
Given the history of American meddling in Israel's affairs, this hands-off approach is striking, risky and, in the end, wise.
by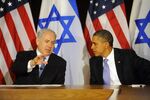 The U.S. State Department has a message for the people of Israel as they prepare to vote on March 17 for a new government: We're staying out of your election.
Ordinarily, one nation staying out of another's domestic politics wouldn't be news. Yet given the recent history of American meddling in Israel's affairs, and the White House's venting about Israeli Prime Minister Benjamin Netanyahu, this hands-off approach from Washington counts as real change. 
The Obama administration is committed to this electoral neutrality despite recent polls suggesting that Netanyahu's coalition could would well lose; despite the White House's conviction that Netanyahu lacks the political flexibility and will to make meaningful concessions to the Palestinians; and despite many of President Barack Obama's top advisers privately feeling that Netanyahu intervened in American politics when he hosted Mitt Romney, along with Republican mega-donor Sheldon Adelson, in Jerusalem in the summer of the 2012.
And yet Obama won't try to tip the scales now. As Jen Psaki, the State Department spokesman, told me last week, "The United States is not and will not be engaged in any way in trying to affect the Israeli elections, end of story. It's not a debate. It's not a discussion. We will work with the leaders selected by the Israeli people, period."
Now, of course one would expect the State Department to say that. After all, its spokespeople have even insisted the U.S. wouldn't play favorites in the Iraqi elections, despite evidence that it did. And Israeli elections are a particularly touchy subject.
Aaron David Miller, a former top State Department adviser on the Israeli-Palestinian peace process, acknowledged last month that U.S. had in the past tried to sway the Israeli electorate against the Likud Party, and that he personally participated twice. In 1991, it began when the George H.W. Bush administration held up loan guarantees for settlement housing to Yitzhak Shamir, who the following year lost his governing coalition to Yitzhak Rabin. In 1996, Miller was part of the peace team that tried to aid Rabin's foreign minister, Shimon Peres, only to see Peres lose the election to Netanyahu. And in 1999, pollsters who worked closely on President Bill Clinton's presidential campaigns advised Ehud Barak, the labor prime minister who brought down Netanyahu's first government.
"There is still a strong memory of [former U.S. ambassador to Israel] Martin Indyk's campaigning for Shimon Peres, this time the U.S. embassy in Tel Aviv is very cautious about staying out of domestic activities," said Gerald Steinberg, president of NGO Monitor, an Israeli group that tracks foreign government funding for Israeli political groups.
History aside, there are three good reasons the U.S. would be best off leaving Israeli politics to the Israelis.
To start, the Israeli political map is a mess. Even right-wing figures such as Avigdor Lieberman are beginning to publicly discuss how Israel can reverse its global political and diplomatic isolation. It's likely that any ruling coalition will have to court an ultra-religious party, Shas, that now finds itself in the middle of its own scandal, as audio recordings of the party's late founder have emerged in which he called the party's current leader a crook. And, as one U.S. diplomat who works on Israel-Palestinian peace issues told me, recent analysis from the State Department concluded that the Israeli electoral map is too fluid at the moment to suggest a clear way that Obama could intervene effectively even if he so chose. 
On top of it all, by all accounts Israelis are not voting on the U.S.-Israeli relationship this time around. Stephan Miller, an Israeli-American political consultant who is an independent pollster in Israel told me, "The US-Israel relationship is not an issue in the campaign. It's an issue in the eyes of foreign journalists trying to cover it. But for the average Israeli voter, its the slow drip of security incidents since the summer and the price of housing."
Finally, there is Obama himself. He is not very popular among Israelis, and any attack he might launch against Netanyahu could easily backfire. Stephan Miller's polling data shows that Obama's unpopularity in Israel is not even contingent on whether the voter is favorable or unfavorable toward Netanyahu.
"If the U.S. president was a beloved figure like Bill Clinton was, then his impact could be serious," Miller said. "But when you have a U.S. president who is unpopular here, it's very difficult to use him to sway voters."
If the U.S. were to throw its weight around, the intended beneficiary would undoubtedly be the coalition between Labor and Hatnua, a new party formed by Tzipi Livni, a former Likud politician who has become a darling of European and American diplomats for her support for peace negotiations with the Palestinians. Last month she urged Secretary of State John Kerry to veto the pending Palestinian statehood resolution at the United Nations. The U.S. did not end up having to use the veto because the measure didn't get the requisite votes in the Security Council.
In addition, Foreign Policy reported last month that Livni also asked European governments to postpone introducing a more moderate U.N. resolution on Palestinian statehood until after the March 17 elections, fearing that such a resolution (being drafted now by the French) would only help Netanyahu and other conservative parties in the election. Its not certain that France will postpone such a vote.
Amir Tibon, an Israeli journalist who has covered Livni closely, told me that it was a mistake for her to make the request to European governments. "Had there been an alternative French resolution, more balanced and fair, it would have a real chance of passing," he said. This would highlight "the degree to which Netanyahu has alienated Israel from the West and caused it to lose support around the world," Tibon added.
Perhaps. But such a resolution could also stiffen the resolve of Israeli voters who resent what they see as international meddling in their own affairs. Either way, if Obama wants a prime minister of Israel with whom he can do business, he would do well to stay out of Israel's business for the time being. 
This column does not necessarily reflect the opinion of Bloomberg View's editorial board or Bloomberg LP, its owners and investors.
To contact the author on this story:
Eli Lake at elake1@bloomberg.net
To contact the editor on this story:
Tobin Harshaw at tharshaw@bloomberg.net
Before it's here, it's on the Bloomberg Terminal.
LEARN MORE