Mario Cuomo's Lost Cause
Cuomo gave speeches that electrified liberals -- and showed why 1980s liberalism was so hopeless.
by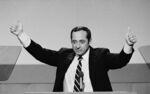 Mario Cuomo, the former governor of New York who died on New Year's Day, is being remembered as a liberal lion and a great orator. Many of the remembrances and obituaries mention his speech at the Democratic convention of 1984.