The Campaign to Glorify Gandhi's Assassin
Was it just a single man who killed Mahatma Gandhi, or was the assassination the goal of an entire ideology?
by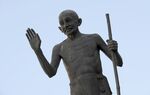 On Jan. 30, 1948, shots rang out in New Delhi that plunged the entire Indian subcontinent into silence. Mahatma Gandhi, architect of India's freedom struggle and rigorous practitioner of nonviolent civil resistance, was shot dead at point-blank range by Hindu nationalist Nathuram Godse.