Draghi Can't Bluff This Time
Mario Draghi bluffed markets in July 2012 with his "whatever it takes" pledge. He can't pull that stunt a second time.
by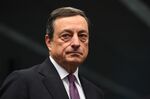 In July 2012, European Central Bank President Mario Draghi pledged to do "whatever it takes'' to preserve the euro. While his comments succeeded in halting a surge in euro government borrowing costs, he turned out to be bluffing. He won't be able to pull that stunt a second time.
Back then, Draghi was tantalizing investors with something he called "outright monetary transactions'' to buy the debt of countries in trouble. These purchases never quite happened. This time around, he's dangling the prospect of full-blown quantitative easing, a wider government-bond purchasing program similar to the one the U.S. Federal Reserve has used to pump cash into the American economy.
After months in denial, Draghi now recognizes that deflation is a clear and present danger. "The risk that we don't fulfill our mandate of price stability is higher than it was six months ago,'' he told Handelsblatt newspaper last week, adding that the ECB council unanimously favors additional action against persistently low inflation.
Even if it does finally act, however, the ECB might find that its program promises too little and comes too late. While a survey of economists published today by the Financial Times shows that a majority expect QE this year, it also finds that most of them are skeptical about its ability to revive the economy.
December inflation data, which come out Wednesday, are likely to show the euro region experienced its first annual decline in inflation for more than five years, with economists predicting consumer prices dropped by 0.1 percent last month. The bond market suggests that investors are bracing for sustained deflation; in recent days, even five-year German debt has been trading at negative yields, meaning fund managers are paying for the privilege of storing their money in bunds for the next half-decade.
Euro investors have interpreted Draghi's comments as a guarantee that QE is imminent; the currency has slumped to a nine-year low against the dollar. Further trashing the euro is the prospect of Greek elections on Jan. 25 that may bring in a new government looking to renegotiate its debt obligations. The next ECB meeting will take place just three days before the Greek vote, and it won't be easy for the central bank to promise to buy the bonds of a country that's on the cusp of threatening default. But Draghi can't afford to blink.
Lorenzo Bini Smaghi, a former member of the ECB board, explained the situation succinctly: 
What happened in the first hours of trading in 2015 shows once again that the ECB must do quantitative easing. By now the markets expect it, and the central bank can't back away; it must overcome its internal divisions and proceed with an official announcement, indeed at the next meeting on Jan. 22.
Draghi's intervention in July 2012 probably averted the break-up of the euro. Today, though, the stakes are higher, and this time he'll have to make good on his QE pledge. 
This column does not necessarily reflect the opinion of Bloomberg View's editorial board or Bloomberg LP, its owners and investors.