A Boston Bombing Gets a Boston Trial
What does the 1855 "prince of poisoners" case have to do with the trial of the Boston Marathon bombing suspect?
by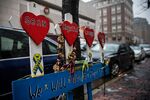 UPDATE: I wrote the column below about the change of venue requested by accused Boston Marathon bomber Dzhokhar Tsarnaev. I argued that the Framers were concerned about keeping trials local to protect the accused. That much was correct. But I also offered a brief history of the rise of the change of venue in the U.S., tracing the modern doctrine to the English Central Criminal Court Act of 1856. That history was incomplete, and I now think I got the causality partly wrong. Please see my Jan. 6 column for a complete explanation.