view
Could Ed Brooke Have Been Obama?
Under other circumstances, he might have preceded Barack Obama as America's first black president.
by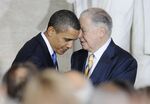 Ed Brooke became the first black U.S. Senator since reconstruction only because he was a Republican in Massachusetts. Yet under other circumstances, he might have preceded Barack Obama as America's first black president.
Brooke, who died this weekend at age 95, possessed immense political charm as well as personal foibles. After winning election in 1966, he, not Ted Kennedy, was considered by some as the charismatic senator from Massachusetts.
He possessed a casual manner but captivating persona, a sharp mind and an instinctive penchant for publicity.
The Democrats, led by the Kennedys, dominated Massachusetts politics a half century ago as they largely do today. In a state with a tiny black population, Brooke, a lifelong Republican, as a Democat probably would have been squeezed out by heavyweight Irish or Italian politicians. In 1960, he was defeated for secretary of state by Kevin White, who later became a four-term mayor of Boston and a runner-up for a Democratic vice presidential selection.
But Brooke bounced back two years later, defeating Elliot Richardson in a Republican primary for attorney general, winning the general election and became a crusading and publicity-seeking prosecutor. For a Republican Party that suffered during the civil rights struggles of he mid-1960s, Brooke was a welcome, if rare, presence. Prior to the 1966 elections, he let it be known he was thinking about retiring from politics with few options to move up. Republican Senator Leverett Saltonstall then announced his retirement and Brooke won the seat.
Richard Nixon asked the Massachusetts lawmaker to second his nomination at the 1968 Republicans convention. But Brooke was a staunch liberal on domestic and foreign policy, and opposed several of Nixon's Supreme Court nominees.
He was such an attractive figure that there was speculation Nixon might dump Vice President Spiro Agnew in favor of Brooke in 1972. Yet that would have created a furor in a Republican party getting increasingly more conservative and Southern.
If Brooke had been a Democrat in the 1970s, he might have been a serious presidential possibility, with a voting record acceptable to the party's liberal wing and a manner and demeanor reassuring to more moderate factions. Blacks were a force in Democratic primaries and may have rallied behind a Brooke candidacy as they did for Obama decades later.
Ultimately, his political career was ended by personal transgressions. Ted Kennedy had a playboy reputation back then; Ed Brooke may have been the real deal on that front. Years later, television journalist Barbara Walters wrote about the multiyear sexual affair with Brooke. 
Brooke was defeated in 1978 following ethical controversies, including making false statements about his finances in divorce proceedings.
In his latter years, he received numerous accolades and awards, including  the Presidential Medal of Freedom from President George W. Bush. But the Obama presidency raises the question of what Ed Brooke might have become in a different era and a different party.
To contact the author on this story:
Albert R. Hunt at ahunt1@bloomberg.net
To contact the editor on this story:
Tobin Harshaw at tharshaw@bloomberg.net
Before it's here, it's on the Bloomberg Terminal.
LEARN MORE