Mario Cuomo's Airborne Lesson in Tolerance
There are few, of the thousands of politicians I've talked to over the years, capable of leaving that mark.
by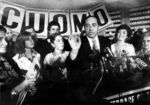 It was 1983, and the newly elected governor of New York, Mario Cuomo, was flying on a small state plane from upstate down to the New York City. Tim Russert, his brilliant young press secretary, and I, a political journalist, were with him.