Next Year's Ebola Crisis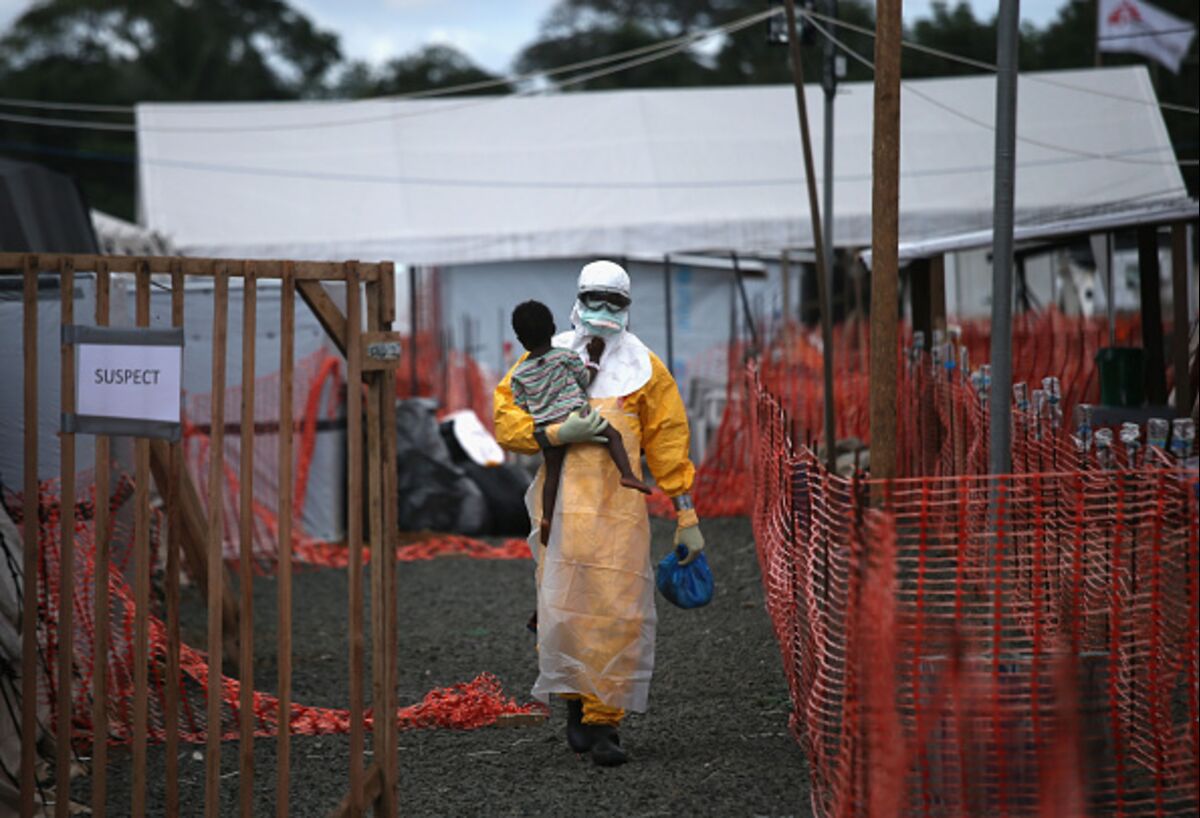 Photographer: John Moore/Getty Images
One of the many ways the world failed to distinguish itself in 2014 was with its response to the Ebola crisis. It cannot afford to be so late, slow and fatally inadequate next year -- with Ebola, which continues to kill people in West Africa, or with the next global pandemic.
Consider, first, how a competent response to Ebola might have played out: A year ago, the health workers in Guinea who saw the first cases would have had the training to recognize it and the equipment to treat it without infecting themselves and others. They didn't, and the disease spread quickly to Liberia and Sierra Leone. Ideally, then, doctors there would have diagnosed Ebola, and traced and quarantined everyone who had contact with the victims. Crucially, they would have alerted the World Health Organization. As it happened, the WHO wasn't told of the outbreak until March.
At that point, in a best-case scenario, with local health-care systems overwhelmed, the WHO would have intervened with a team of well-equipped doctors and nurses. Such a team didn't exist, and it took the WHO until August even to declare a public-health emergency, and several weeks beyond that to come up with a response plan.
And so the total number of infections is now more than 12,000, with some 7,700 dead.
This might-have-been story reveals how countries and the WHO need to change before the next outbreak -- of Ebola, SARS, bird flu or whatever it turns out to be. Every country needs hospitals and laboratories capable of diagnosing, safely treating and monitoring disease. The WHO needs improved surveillance and reporting systems, as well as the capacity to send medical teams when needed. The World Health Assembly, the international body that sets policy for the WHO, cannot waste any time seeing that these changes are made.
What's frustrating is that world leaders have long recognized the need to be ready for outbreaks of infectious disease. In 1969, they signed a pact known as the International Health Regulations, meant to make sure preparations would be in place. The most recent update to this accord -- in 2005, after the SARS epidemic -- called for all 196 countries to have the laboratories, hospitals and medical expertise to detect, treat and monitor epidemics.
One glaring weakness in this framework, however, is that countries have been allowed to monitor their own readiness. An outside body -- either the WHO or an independent organization -- must be appointed to keep track of their progress toward building sturdy medical infrastructure. And at least until all 196 countries are up to snuff, the WHO needs to have the authority to step in.
It's true that the WHO has been hollowed out by funding cuts, as member states trimmed their contributions during the economic downturn. The organization's annual budget is now just $2 billion, about a third of what the U.S. spends on its Centers for Disease Control and Prevention -- and the WHO directly controls only about one-fourth of its own budget (most of its money comes from foundations and other donors that insist their funds be spent on specific diseases).
But even if countries make bigger financial commitments to the WHO, as they must, the WHO needs a new mandate. It's not enough for it to act as a consulting "technical agency" in international health. It has to become a first responder. The World Health Assembly needs to make sure the organization can detect and respond to outbreaks quickly and efficiently.
This shouldn't be too much to ask. Of all the grave issues on which the nations of the world manage to cooperate, including economic and military matters, public health is arguably the most urgent -- and the most rational. Ebola has made that very clear.
To contact the senior editor responsible for Bloomberg View's editorials: David Shipley at davidshipley@bloomberg.net.