Terrific Broadway Show, Terrible Signaling
Why is one Broadway production -- with superb lead actors, beautiful songs and a powerful plot -- closing so quickly?
by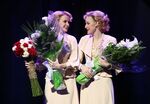 My daughter and I love what has become a yearly trip to New York for Broadway shows. We had a delightful time over the last few days seeing some classics, together with the "Christmas Spectacular" at Radio City Music Hall. Yet nothing prepared us for a musical we decided to see at the last minute based on my daughter's on-the-ground research.