The Sunny Side of Brazil's Petrobras Scandal
Can a cleaner Brazil emerge from the Petrobras scandal's oily miasma?
by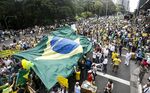 When a major political payola scandal hit Brazil a few years back, a colleague and I had a friendly falling-out over which scam was the country's worst. I'd picked the mensalao, a congressional payola scheme that saw the conviction of 25 moguls and government higher-ups and the near-unseating of President Luiz Inacio Lula da Silva. My friend went for the pork-for-votes scheme that Lula's predecessor had run to buy re-election.