QZ8501 and Malaysia's Year of Flying Dangerously
Malaysian-owned carriers have been involved in the three worst air tragedies of the past year.
by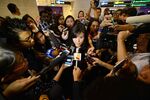 When the Indonesian authorities called off Sunday's search for AirAsia Flight QZ8501, lost flying between Surabaya, Indonesia and Singapore, Malaysians could have been forgiven for feeling a sense of déjà vu. After all, it was only nine months earlier, on March 8, that they received word that Malaysia Airlines Flight 370 had gone missing, setting off months of on-again, off-again searches that -- so far -- have turned up nothing. At least briefly, QZ8501, flown on an Indonesian subsidiary of Kuala Lumpur-based AirAsia, felt like more of the same.