A Great Year for the Far Right
Far right forces are on the rise everywhere, not just in Europe. This year marks their inclusion in the global political establishment.
by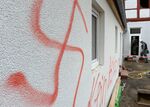 Steve Heller, a world expert on graphic design, cares little about politics. But yesterday he published a post on the website of Print magazine titled "The Right Is Always Wrong" -- a powerful collection of images in which extreme nationalists in Hungary, Greece and Ukraine proudly display Nazi-style symbols.