Wow! What the Jump in U.S. Growth Means
This morning's revision to the third-quarter number for U.S. economic growth is consequential in four important ways.
by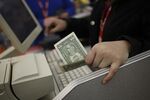 This morning's "wow" revision to the third-quarter number for U.S. economic growth  -- from the prior estimate of 3.9 percent to 5 percent -- is consequential in four important ways:
First, the jump in GDP growth signals a broadening of what had been a timid U.S. recovery. Coming on the heels of the strong second-quarter 4.6 percent bounce back and the impressive November monthly jobs gain (321,000 -- another wow number), the third-quarter revision confirms a solid recovery is finally taking hold. The strengthening growth dynamics aren't without qualification: Today's disappointing estimate for durable goods is a reminder of how much residual healing is still ahead. But the growth engines are becoming a lot stronger and more widespread, and they will benefit from more engagement by corporations with healthy balance sheets and lots of idle cash.
Second, the growth number will strengthen the Federal Reserve's resolve to start raising interest rates in the middle of 2015. Having declared in October that it is totally exiting from its policy of quantitative easing, the Fed has been struggling with what to do next and when. With this latest number in the bag, look for the central bank at the January meeting of its Federal Open Market Committee to signal more decisive action, setting the stage for the initiation of rate increases by summer's end at the latest. This will be a gradual and measured cycle, with the terminal rate likely to rest below the historical 4 percent average.
Third, the GDP figure highlights the global divergence in growth and policies. The strength of the U.S. economy stands in stark contrast to what is happening in the euro zone and Japan. The resulting divergence will be accompanied by opposing monetary-policy responses, pushing the dollar's exchange rate higher and producing greater price volatility for other segments of the financial markets.
Finally, the risks to future U.S. growth are what economists call external and exogenous. With the U.S. growth drivers developing deeper and wider roots, the main impediments to economic "liftoff" are now concentrated in two areas. First is the weak growth in the rest of the world -- conditions worsened by the geopolitical shocks from Russia. Second is the possibility of either a market accident -- because investors have become overly reliant on the Fed's prolonged loose policies -- or a dislocation arising from a policy mistake -- because central banks have been carrying too much of the burden for too long.
This column does not necessarily reflect the opinion of Bloomberg View's editorial board or Bloomberg LP, its owners and investors.