Deflation Isn't What's Holding Europe Back
The European countries that have experienced deflation this year have seen positive economic growth and increases in consumer spending.
by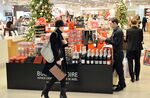 As the European Central Bank gets ready for quantitative easing, overriding German arguments that buying government debt creates moral hazard in debt-laden countries, it is reacting to the threat of deflation. Yet slow-growing prices aren't at the heart of what ails the euro area, and QE won't fix the deeper problems that are.