Why Obama Is Smiling Again
If only the president can have a Scrooge-like conversion and keep this holiday spirit going all year long.
by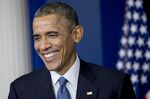 The headline out of Friday's news conference was that the president was happy. Barack Obama's post-midterm-election scowl was gone, replaced by the wide smile that once charmed the country. Emerging from his bunker, he blithely engaged reporters (all of them women), calling out a "bless you," when he heard a sneeze.