view
U.K.'s Holiday Cheer in Four Charts
The evidence is mounting that Britain's economy is in a state of good health.
by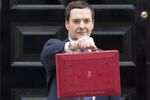 There's an austerity row brewing in the U.K., where Chancellor George Osborne faces accusations that his enthusiasm for budget cuts risks driving government spending down to levels last seen in the 1930s. The rush to squeeze the economy to be able to boast of a budget surplus is unseemly (at best) and dangerous (at worst), given the frailty of the global economy. But what's lost in the debate is growing evidence that Britain is in a state of ruddy health.
One accusation leveled against the government is that the domestic recovery hasn't solved the nation's cost-of-living crisis, with most people seeing no growth in earnings even as consumer prices rise. Wages, though, are currently rising at a 1.6 percent pace, outstripping inflation of 1 percent and delivering real pay growth for the first time since 1999: 

Although that still leaves several years of earnings erosion to backfill, the trend is cause for optimism. And with the wage side of the wealth equation rising, this year's 50 percent drop in the price of oil will continue to depress the inflation component. Fuel prices for motorists, for example, are at their lowest in more than four years: 

Meantime, the supermarket price war that's seen German discount retailers Aldi and Lidl steal market share from the likes of Tesco, Asda and Sainsbury continues to push U.K. food prices into deflation: 

And when the going gets good, the good go shopping; retail sales soared by 6.4 percent in November from a year earlier. While the volume figures were probably flattered by discounting (as U.K. retailers copy the U.S.'s Black Friday promotions), they posted their biggest jump in a decade and outpaced the 0.4 percent increase anticipated by economists.
The job market is another success story for Osborne. His claim that the private sector would create enough jobs to offset cuts in the government workforce has proven justified, as this chart of the relative change in the public and private sector workforce shows: 

That chart suggests to me that Osborne's spending cuts have as much to do with philosophy as Britain's economic needs. The Conservative Party is in favor of shrinking government; the aftermath of an economic crisis is a great opportunity to implement a doctrine that, in better times, might be a harder sell.
It could all still go wrong. The intimate link between British perceptions of well-being and home prices means the recent slowdown in real-estate values could undermine consumer confidence. Wage increases could prove temporary as the gloom in Europe hurts exports. Britons might go on a renewed debt binge, restarting the boom-bust cycle that has plagued the nation for decades.
Britain may not be booming, but it is chugging along quite nicely, and is certainly doing better than its euro neighbors. With elections scheduled for May, however, it looks increasingly difficult for the opposition Labor party to argue that it needs to come to the rescue of an economically squeezed middle class. 
To contact the author on this story:
Mark Gilbert at magilbert@bloomberg.net
To contact the editor on this story:
Paula Dwyer at pdwyer11@bloomberg.net
Before it's here, it's on the Bloomberg Terminal.
LEARN MORE