Ben Carson's Chances, Peaking Now?
The Republican rabble-rouser might not become the Michelle Bachmann of 2016, but he isn't going to get close to the party's nomination.
by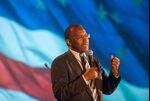 No one knows how the rabble-rousing Republican presidential candidate Ben Carson will do in the Iowa caucuses and early primary states. Last time around, Representative Michele Bachmann had at least as strong a start yet fizzled long before voters got involved. But the Carson phenomenon is part of the story for now, as a nice article in the New York Times illustrates.