Making 'Make in India' Work
No one's going to heed Narendra Modi's call to "make in India" until he gets the fundamentals right.
by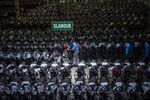 India's central banker Raghuram Rajan is good at asking the right questions. A distinguished economist with exceptional foresight -- he was one of the few to predict the 2008 financial crisis -- he's now triggered a debate within India over Prime Minister Narendra Modi's flagship "Make in India" campaign: an effort to boost India's manufacturing sector to China-like levels. 
In a speech last week, Rajan questioned whether that should be India's goal at all. The conventional wisdom is that the only way to find jobs for a young and growing population, and to move workers off the farm and into cities, is to expand India's export-focused industries. That's the same route Japan, China and the so-called Asian Tigers all pursued successfully. Yet, Rajan asked, does the world really need another export powerhouse? With demand in developed nations slowing, there simply may not be enough customers for Indian-made goods, no matter how cheap. The alternative -- stimulating domestic demand artificially, by raising tariffs on imports -- has been tried and failed spectacularly under previous socialist governments.
What Rajan's questions really expose is the fact that so far, Modi's much-hyped campaign offers more rhetoric than substance. Even if one agrees with the goal of boosting manufacturing, the government has yet to offer any convincing strategies for achieving it. Modi has placed great emphasis on raising India's ranking in the World Bank's ease-of-doing-business survey from 142 to 50. That would require taking an ax to India's tangle of red tape: simplifying processes for opening a business and for registering property; improving the enforcement of contracts and collection of taxes; making it easier to acquire permits.
Yet while businesses would happily embrace such changes, they're unlikely to unleash a manufacturing revolution. Like China, India's already tried to implement several of these reforms in special economic zones that advertise lower taxes and looser land and labor regulations. These efforts have yet to amount to much, at least partly for the reasons Rajan has laid out -- weak demand in advanced countries.
These policies focus too much on symptoms of India's malaise. The real problem is that markets for four critical inputs for manufacturing, or indeed any business -- land, labor, power and capital -- are badly distorted. Until the government resolves those distortions, "Make in India" will remain nothing but a slogan. 
Consider land. A new land-acquisition law, passed in the dying months of the previous government in 2013, makes buying farmland on which to build factories tremendously complicated and expensive; by law, companies have to pay four times the market price in rural areas. There's simply no free market for land in India.
On labor, India should have a cost advantage over China, whose labor-intensive goods now flood the Indian market. Chinese wages have risen rapidly over three decades of double-digit growth. India's haven't, and almost half the population is still engaged in unproductive agriculture. Yet tough labor laws mean that the opportunity costs of hiring workers remain cripplingly high. While the government has started a debate on reforming those laws, few changes are evident yet.
Unreliable and expensive power supplies hamper all of India's businesses. Indian governments have long subsidized agriculture and regular consumers by charging higher rates to industry. China and other emerging nations have followed the opposite strategy. India need not reverse course completely, but it needs at least to even out prices for everyone while boosting overall supply.
The issue of expensive capital is one that should particularly exercise Rajan. He knows that India's closed financial system artificially raises the cost of capital. He's stuck with a tight monetary policy for the moment because of high inflation. But compared to the rest of the world, Indian interest rates tend to be too high even when monetary policy is more accommodative. There's also plenty more room for India to open up its financial system, even if it remains wary of the kind of cowboy capitalism that led to the 2008 crash.
The government can help manufacturers by following through on pledges to invest in roads, ports and connectivity. But only when India's markets for land, labor, power and capital work efficiently will the foundations for a true cost-competitive manufacturing revolution exist. Rajan might then find himself a bit more optimistic: Indian companies shouldn't need any special protections to compete with cheap Chinese goods at home. And when the advanced economies finally recover, there will be other markets to conquer.
This column does not necessarily reflect the opinion of Bloomberg View's editorial board or Bloomberg LP, its owners and investors.
To contact the author on this story:
Dhiraj Nayyar at dhiraj.nayyar@gmail.com
To contact the editor on this story:
Nisid Hajari at nhajari@bloomberg.net
Before it's here, it's on the Bloomberg Terminal.
LEARN MORE