Marco Rubio, 2016's Young Fogey
It was Rubio the Bummer who this week mounted the barricades to demand the continued isolation of Cuba.
by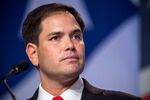 Senator Marco Rubio's autobiography, "An American Son," begins on Nov. 2, 2010 -- election night. The young state legislator had just won a resounding victory over a Democratic rival and a sitting Republican governor (who ran as an Independent), to be elected the junior senator from Florida. With a phalanx of reporters covering his hour of triumph, and a roomful of supporters cheering him on, Rubio, then only 39, delivered his victory speech, bringing his grinding, two-year, upstart campaign to a glorious conclusion.