Putin Talks Tough But Wants a Deal
Putin was his usual belligerent, unrepentant self in his annual press conference. But he also suggested he's ready to make a deal in Ukraine.
by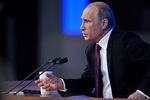 The picture Russian President Vladimir Putin painted of his country at today's annual press conference was Panglossian: Unemployment low, industrial production and the trade surplus up, more people having babies -- what could be better? As for the crashing ruble and oil price, these things would correct themselves -- within two years at the most.