How Hockey Got the Mumps
It is reasonable to speculate that the current mumps outbreak among hockey players may be related to lower vaccination rates in Canada, spurred by the anti-vaccination movement.
by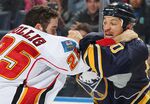 Over the past two months, the National Hockey League has experienced a baffling outbreak of mumps. Thirteen players are said to have it, and there's no telling when the outbreak will end. It is a story that seems to have stepped from the mid-20th century.