Editorial Board
Can Janet Yellen Be Serious?
What if the Fed's change in language really doesn't mean anything at all?
by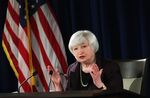 Sometimes you have to wonder if the Federal Reserve's governors are just laughing at the analysts who pore over every statement to find crucial hidden meanings in their blandest phrases. If they aren't laughing, they should be.