U.S. May Get Dragged Into Pakistan's New War
There is a recognition in Washington that the U.S. has no choice but to give aid, whether the Pakistani military lives up to its promises or not.
by and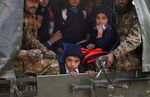 The massacre Tuesday at a school in Peshawar, Pakistan, is likely to set off a new round of fighting between the country's army and the Taliban. But the attack may also push President Barack Obama to renew the counter-terrorism partnership with Pakistan that has deteriorated since the U.S. killing of Osama bin Laden in 2011.