view
NFL Finds Way to Make Football Even More Dangerous
NFL players are increasingly turning to untested and unregulated stem-cell therapies. What could go wrong?
by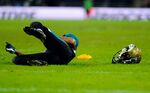 The National Football League has employed plenty of sketchy health-care practices over the years, notably its lax treatment of concussions, its indiscriminate dissemination of painkillers and its blindness to the conflicts of interest inherent in team-employed doctors. Now we can add unproven stem-cell therapies to the list.
Earlier this month, researchers at Rice University warned against the use of stem cells in orthopedic healing treatments among elite athletes, particularly NFL players. "Many scientists object to these treatments and advocate for empirically demonstrated clinical benefit, which has not been shown," they wrote, while pointing to their potentially dangerous side effects.
The researchers explained how these treatments work:
Typically, adipose tissue or bone marrow is harvested from a patient in the morning. The same day, [stem cells] are isolated from the tissue and implanted back into the same patient at the injury site. 
The idea is that the implanted cells will speed up the healing process and help athletes bounce back from injuries much faster.
Most of the medical literature on such procedures -- which are exempted from government regulation -- consists of press releases and articles by scientists with ties to stem-cell clinics. This coupled with a dearth of peer-reviewed scientific studies creates an information gap that fails to adequately convey the risks associated with these treatments while potentially exaggerating their benefits.
Though the risks include cancer and blood clots, the researchers say such severe side effects are rare. The bigger problem seems to be that the treatments could be ineffective. "Any of these injections have a placebo effect," Freddie Fu, chairman of sports medicine at the University of Pittsburgh, told MIT Technology Review. "We don't really know what exactly what it does, biologically."
Stem-cell therapies are also an ethical gray area when it comes to sports. Anabolic steroids and human growth hormone have been banned across professional leagues because they enhance performance and have adverse side effects. At first glance, they're easy to distinguish from stem-cell treatments, which involve a patient's own cells and are used for healing. But without adequate study and regulation, the researchers say, it's impossible to determine exactly what is being injected back into these players' bodies.
To be clear: Stem-cell therapies could very well be at the forefront of health-care progress. But like any other new medical procedure, they should be approached with caution as scientists continue to study them.
Instead, they're being exploited for profit. Clinics target players with advertisements for stem-cell treatments, and in turn tout these players in marketing campaigns to generate credibility. Your average player might be more inclined to seek out stem-cell therapies without much regard for their risks because Peyton Manning did it, too. Worse, "the use of NFL players to endorse these activities may lead the general public to view the procedures as safe and effective, even with a lack of scientific data to adequately defend the therapies," the researchers wrote.
Professional athletes shouldn't be guinea pigs for health-care companies to test their unproven medical treatments. But it's unrealistic to think that they're going to stop seeking out these therapies, especially given their natural tendency to overlook their future health in favor of their current ability to play. Athletes have both the means and the motive to spend tens of thousands of dollars on experimental treatments that might extend their playing careers.
So it makes sense for sports leagues to aid scientists in studying these therapies. Just as the NFL did with traumatic brain injuries and performance-enhancing drugs, the researchers argue, the league and others should form a task force of independent medical experts to further evaluate stem-cell treatments. Learning more about these procedures would benefit the leagues, the public -- and especially the athletes whose bodies are being experimented on.
To contact the author on this story:
Kavitha A. Davidson at kdavidson19@bloomberg.net
To contact the editor on this story:
Timothy Lavin at tlavin1@bloomberg.net
Before it's here, it's on the Bloomberg Terminal.
LEARN MORE