Far-Right Germans on the March to Moscow
Germany's anti-immigrant protesters are a convenient lever for an ambitious populist party -- and convenient pawns for Putin's new European game
by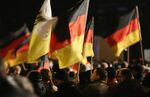 Anyone reading headlines about 15,000 people rallying against immigration in Dresden would be forgiven for wondering if Germany has finally caught up to the rest of Western Europe, where xenophobic parties present the biggest threat to the political establishment. I rather doubt that: The rapid rise of Pegida, the group that organizes the rallies, doesn't yet signal a shift in national politics -- although it soon might, if it earns the attention of a political party offering broader anti-establishment appeal and an outside backer, like Russian President Vladimir Putin, willing to bankroll the effort. 
Pegida stands for Patriotische Europaeer Gegen die Islamisierung des Abendlandes, or Patriotic Europeans Against the Islamization of the West. Yet its growing weekly rallies -- hundreds of attendees in October, when the movement started, 10,000 people last week, 15,000 last Monday -- take place in Dresden, capital of the eastern state of Saxony, which has one of the smallest shares of immigrant population in Germany. Only 99,235 of its more than 4 million residents, on just 2.5 percent, are of foreign origin. Dresden is in no danger of "Islamization." Similar protests in cities with bigger immigrant populations, such as Kassel and Duesseldorf, have only attracted a few hundred people in recent weeks.
Germany is not an immigrant-unfriendly country. A recent poll by the ZDF TV station showed 54 percent of Germans are in favor of bringing in more immigrants. By contrast, in the U.K., 67 percent say the country is "already overcrowded." The majority of Germans, also 54 percent, according to the same ZDF poll, do not believe immigrants commit more crimes than Germans do, and a full 83 percent support foreigners' right to asylum in Germany, allowing the country to remain the world's number one destination for asylum seekers, according to a recent report from the Organization for Economic Cooperation and Development. That said, Germany has been cautious not to let in too many people relative to its population of more than 80 million. Last year, the inflow reached 0.5 percent of the population, compared with 0.8 percent in Austria and 0.9 percent in Sweden.
That does't mean there isn't tension between newcomers and the locally-born. There are, first off, the 35 percent of Germans who do believe immigrants commit more crimes. The country also has a relatively small, but active, faction of right-wing radicals. Last week, a far-right group sprayed swastikas on the walls of a yet-unopened refugee housing site in the Bavarian town of Vorra, before setting the building on fire.
But pro-immigration Germans vastly outnumber the right-wing extremists. According to Germany's domestic intelligence service, at the end of 2013, there were only 22,700 neo-Nazi organization members in Germany, fewer than the year before. And right-wing attitudes and actions usually face highly public pushback -- not just from mainstream politicians headed by Chancellor Angela Merkel, known for her firm pro-immigration stand, but also from ordinary citizens. Local residents in Vorra demonstrated against the destruction of the refugee site. Last Monday, 5,000 people in Dresden turned out to protest against the Pegida rally.
In a political climate of zero tolerance for Nazi flashbacks, Germany's hasn't seen the rise of a strong anti-immigration party. The anti-establishment, anti-European Union Alternative fuer Deutschland, which voiced some mild anti-immigrant sentiments -- considerably watered down compared with those of the French Front National or Britain's U.K. Independence Party -- failed to get into parliament last year. AfD is, however, represented in the local parliaments of some relatively poor eastern states, including Saxony, and it's now trying to get on the Pegida bandwagon. "Most of their demands are legitimate," AfD leader Bernd Lucke has been quoted as saying. 
This is a sensible strategy for the AfD, but if it wants to better its odds, it should look beyond the borders of Saxony and consider working together more closely with Moscow. That's the model followed by France's successful Front National, which has loudly bucked Europe's ongoing policy of ostracizing the Russian president, and has received millions of euros from Russia in return. Putin's strategy seems to be to build up a "fifth column" of far-right parties in Europe willing to cooperate with the Kremlin. 
Such an arrangement would also be to the benefit of a party like the AfD -- and not just for financial reasons. Russia is already relatively popular in eastern Germany, which has traditional economic ties with the former Soviet empire. It shouldn't be a suprise that the Pegida protests have already featured elements of a pro-Russian agenda into the Pegida protests. Though the group's program focuses on immigration, the protests have also attracted German pacifists who object to Merkel's hard line against Russia. Last Monday's rally also featured pro-Russian slogans, including "Putin, Help Us!" 
Mainstream German politicians, headed as ever by Merkel, have condemned Pegida's anti-immigrant slant, and Justice Minister Heiko Maas called the protests "a disgrace to Germany." Yet it might be worth investigating whether immigration is indeed the protesters' biggest grievance. It could be that they simply feel underrepresented by the mainstream parties and in search for an alternative -- "politically homeless" and consumed by a "thirst for leadership," as Jasper von Altenbockum described them in Frankfurter Allgemeine Zeitung. That could make the Dresden protesters a convenient lever for an ambitious populist party -- and convenient pawns for Putin's new European game.
This column does not necessarily reflect the opinion of Bloomberg View's editorial board or Bloomberg LP, its owners and investors.