China Comes Clean on Dirty Air
China's initial contribution to a climate change solution was always going to be an accurate account of its own role in the climate change problem.
by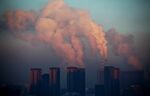 Perhaps the biggest unanswered question hovering over each round of international climate change talks is whether China can be trusted to abide by any carbon reduction commitments it agrees to. Given Beijing's history of pushing for vague, non-binding targets -- and its reported intervention last weekend to block efforts to include a rigorous review process in the Lima Accord -- there's certainly grounds for skepticism.