What the CIA Could Have Told Us
Interviews with CIA officers who were involved in interrogations, or who evaluated the raw intelligence, would have been helpful in the Senate report.
by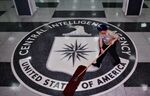 I argued in last week's column that before passing final judgment on the rendition, detention and interrogation program operated by the Central Intelligence Agency in the early years of the war on terrorism, the majority staff of the Senate Select Committee on Intelligence should have interviewed CIA officers who were there. Readers have asked whether I really believe conversations would have made a difference. Yes, I do -- as long as the staff took seriously its responsibility to discover the truth.