view
Ignore Those Polls! (Early Presidential Nomination Edition)
At this point, the surveys are measuring only candidate name recognition.
by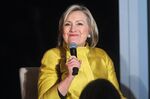 Aaron Blake at the Fix is baiting me:
Whenever someone complains that polling this far out doesn't matter, we sigh just a little. Hillary Clinton's poll standing, after all, is pretty indicative that she's the favorite for the Democratic nomination. That's an extreme example, but you get the idea.
You know my answer: Ignore those polls!
OK … mostly ignore the polls. They are worth paying attention to only to the extent that party actors care about them.
That's not nothing. It's very possible, for example, that some Democrats will believe that Hillary Clinton's outstanding poll numbers mean she has a lock on the nomination. They might react by endorsing her instead of urging other candidates to run and, as a result, she could win easily even if she had been vulnerable. Similarly, Republican party actors trying to sort through the complicated field of candidates might use early polling to make choices. That would have important consequences.
But by themselves early polling numbers are almost useless. Voters aren't engaged this early. The surveys are measuring only name recognition and, to a lesser extent, vague impressions of the candidates who are well known.
Caucus-goers in Iowa next winter will have been subjected to an intense campaign from all the remaining candidates (a group that will probably be very different than it is today, especially on the Republican side). They will also have received signals from party opinion leaders, pushing them toward the candidates party actors support and away from those who appear to have no chance. Voters in New Hampshire will not only have that to go on, but also the blast of publicity for the winners in Iowa. Same with the primary voters in South Carolina and Nevada after that. We know that the result can be huge swings. Indeed, the safest assumption is that there will be dramatic swings.
So the early polling on presidential nominations mainly matters if it affects what party actors will do over the next several months. Other than that, they're probably only good predictors to the extent that they reflect the opinions of important party actors. Wait until late fall and start paying attention to Iowa polling, but until then you should follow high-profile endorsements and signs that the candidates are gathering resources from within the party. 
To contact the author on this story:
Jonathan Bernstein at jbernstein62@bloomberg.net
To contact the editor on this story:
Max Berley at mberley@bloomberg.net
Before it's here, it's on the Bloomberg Terminal.
LEARN MORE