Oil Company Finds Gusher in Bond Indenture
Some edits to Forest Oil's merger press release were worth more to its equity value than, you know, its oil wells and stuff.
by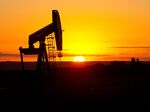 Here's a graph of Forest Oil Corp.'s stock price:

Bad, right? With about 119 million shares outstanding and a closing price yesterday of $0.3415, that's about a $40 million market cap, down more than 90 percent year to date. That's not a huge surprise, I suppose; Forest is an East Texas oil and gas producer that agreed in May to merge with Sabine Oil & Gas, another East Texas oil and gas company. Recent months have not been kind to independent oil and gas companies.
Here, on the other hand, is a chart of Forest's 7.25 percent senior notes due 2019:

Unlike the stock, those bonds bopped cheerfully along all year until, bang, they lost half their value today. And the bonds are, at least these days, worth much more than the stock: There were $578 million of those bonds, plus another $222 million of 7.50 percent bonds due 2020, which had a similarly unpleasant experience. So call it $800 million face amount of bonds, worth around $680 million yesterday and under $400 million today.
What happened? Well, Forest's merger with Sabine closed. But not quite the way everyone expected. Here is a press release that seems to have been published without accepting all the tracked changes:

Sabine, a private company owned by energy private equity fund First Reserve, 1 was about three times as big as Forest. The original merger agreement provided for Sabine's owners to end up with a 73.5 percent economic stake in the combined company, and for Forest's public shareholders to end up with the other 26.5 percent. But Sabine's owners would get some of their interest in the form of "Series A convertible common-equivalent preferred shares," which would have some extra voting rights, so that Sabine's owners would end up with 80 percent of the vote, and Forest's with 20 percent. 
The new deal, per that press release, gives Sabine's owners the same economic stake in the new company as they had under the old deal, again in a combination of common stock and weird convertible preferred stock. Only, instead of getting 80 percent of the vote, the new deal gives Sabine's owners something less than 50 percent.
Guess why! I mean, I gave you a pretty big hint with those charts. The original deal, struck back in the relatively sanguine days of May, would have triggered the change of control provision in Forest's bonds. That provision is Section 4.09 on page 44 of the indenture for those bonds: If Forest has a "Change of Control," then its bondholders can demand that Forest buy back their bonds at 101 cents on the dollar. The term "Change of Control" is defined on pages 3 to 4 and, for our purposes, is triggered if the transaction leaves Forest's shareholders holding "less than a majority of the Voting Stock of the surviving corporation immediately after such transaction." 2
Before today, this deal left Forest shareholders with less than a majority of the voting shares of the surviving company. Now they have at least 50.1 percent of the votes. Before today, Forest was looking at paying $808 million to buy back bonds that are worth around half that. Now, it's not. 3  The edits in that press release moved around $400 million of value from Forest's bondholders to Forest's and Sabine's shareholders. For context, Forest's financial advisers calculated total equity values for Forest ranging from $151 million (low end of net asset value analysis) to $844 million (ridiculously  high end of value to production ratios), and that was in May, when West Texas Intermediate crude was trading at over $90 a barrel. For further context, Forest's stock was worth $40 million yesterday.
So it's safe to say that those edits to the press release today were worth considerably more to Forest's equity value than, you know, its oil wells and stuff. 4
Of course there are trade-offs. The big one is, Sabine's investors now don't control the new company. Giving up control of the company you thought you'd bought: pretty big trade-off! But not as big as it sounds. Five of the seven board members of the new company will come from Sabine's board, including the chairman and chief executive officer. 5 And Sabine's investors are just First Reserve, which will own 40 to 50 percent of the new company, while the Forest shareholders are dispersed public owners. 6  If you own 49.9 percent, or even 40 percent, of a public company, you basically own a majority. Certainly actually owning a majority is better, and owning 80 percent is better still. But First Reserve has gotten itself some $300 million of value -- three-quarters of the haul from the bondholders -- in exchange for giving up a little bit of control, so that softens the blow a bit.
That, by the way, is why you don't see this more often: First Reserve is giving up majority control, and taking some of its ownership in the form of creepy not-entirely-convertible not-entirely-voting preferred stock. That works because it is a concentrated private equity owner buying a majority (but not 100 percent) economic ownership in a public company. That's not the most frequent form of acquisition.
The other reason that I guess you don't see it that often is, it's really weird to change a merger deal after the shareholders vote on it. I suppose this deal is easier to change because Forest's public shareholders aren't giving anything up: Sabine is getting the same economic ownership, and less voting power, than in the deal that Forest's shareholders voted on. Still it's a little risky. Basically between that shareholder vote -- in which Forest shareholders were told that Forest would have to buy its bonds back at 101 -- and today, Forest and Sabine found an extra $400 million-ish of value to distribute in the merger. They distributed it fairly -- I mean, in the same proportion that Forest's shareholders voted to approve -- but, still, that's the sort of thing that those shareholders might have wanted to know about in approving the deal.
Much of finance consists of fighting over how to divide the pie: There's so much value, and you want your side to get more of it and the other side to get less. But the magic of finance is at its most magical when you can create value, both for your side and for the other side. Every so often, I guess, value can be created out of thin air, but you shouldn't expect to find too many examples of that. Instead, the best place to find value tends to be in the pockets of people who aren't in the room with you. The Internal Revenue Service is almost never in the room, so its pockets are frequently picked in merger-and-acquisition transactions.
Bondholders also tend not to be in the M&A room, so sometimes they end up subsidizing transactions. That's why, after bitter experience, bondholders have learned to insist on change of control put provisions. But those provisions are not an absolute bar to taking value from bondholders and giving it to shareholders. 7  They're more of a challenged to creative structuring. Sometimes the best place to drill for value is in the oil fields of East Texas. 8 Other times, it's in the bond indentures.
To contact the author on this story:
Matt Levine at mlevine51@bloomberg.net
To contact the editor on this story:
Zara Kessler at zkessler@bloomberg.net
Before it's here, it's on the Bloomberg Terminal.
LEARN MORE