Look Out for Sovereign-Bond Volatility
With countries' economic outlooks diverging, something has to give.
by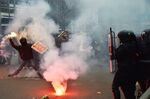 Sovereign bonds have been full of surprises this year: From the U.S. to Spain, yields are declining further after confounding investors' expectations by staying low for most of 2014. It's a trend that could be setting markets up for greater volatility in 2015.