David Garth, Cross-Party Political Adviser
Lamenting the loss of the apartisan political consultant.
by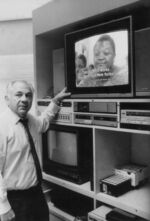 Political consultant David Garth died yesterday at 84. He was a central figure in the history of his profession, and thus of modern electioneering.
Garth's career reflected the nadir of political parties. Unlike consultants who began their work in the 1980s and later, Garth worked for candidates from both parties. A partial roster:
A liberal Democrat, Mr. Garth generally worked for liberal or moderate candidates, but his clients included several Republicans. He cut his political teeth on Adlai E. Stevenson's short-lived 1960 presidential race. He went on to represent Governors Carey of New York, Ella T. Grasso of Connecticut, Brendan T. Byrne of New Jersey and John J. Gilligan of Ohio; Senators Arlen Specter and John Heinz of Pennsylvania, John V. Tunney of California and Adlai E. Stevenson III of Illinois; Mayor Tom Bradley of Los Angeles and Mayors Lindsay, Koch, Rudolph W. Giuliani and Bloomberg of New York.
New York City politics still have blurred party lines, but there's no way that a consultant today could work for two Republican senators from Pennsylvania along with an array of Democrats. Party networks are too strong now. But it was possible a few decades ago, and Garth is a  famous example.
Even as the practice of campaign professionals moving across party lines has  practically disappeared, there also are fewer people involved in campaigns (and governing) who are primarily attached to just one politician. So what was once only one of several possible career paths -- moving between support for many different same-party politicians -- has become the norm for most people who are involved in politics for any length of time. It describes, for example, almost the entire White House senior staff throughout Barack Obama's presidency. It was a different story in the Nixon, Johnson or Kennedy White Houses. The same tends to be true at the congressional levels.
But it wasn't always that way. In that sense, Garth followed a path that is no longer taken. If his career had turned out to be a template that many others followed, U.S. politics would be very different today.
This column does not necessarily reflect the opinion of Bloomberg View's editorial board or Bloomberg LP, its owners and investors.